Corn All Planted and Growing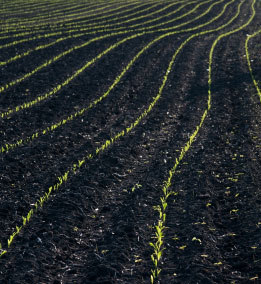 April 2014
Trent Brandenburg is happy to have all his planned corn crop planted. He began planting on April 19, and the first field has already germinated. He finished planting last Thursday, April 24, planting about 400 acres per day with his modern equipment. Trent did not want to plant soybeans in April, so he is using the present time to get his equipment switched over to bean planting and then wait for field conditions to become dry enough to plant soybeans.
Rain has continued much of the last week of April, which is good for germinating corn, but not good for getting fields dry enough to plant.
Trent believes some of his corn germination has been slowed by cool nights the past week, but the upcoming first weekend in May promises warmer weather to hasten both corn germination and soybean planting.
More from The Field Report
Fred
Trent Brandenburg has completed his harvest. His 2022 corn and soybean crops are "in the bin". Asked how he would rate the crop year, Trent thought a bit and said, "It was a good year." Trent has concerns during the [...]
Fred
Trent Brandenburg is done with his soybean harvest. Most of his bean fields averaged in the seventy-bushels-per-acre range, with one in the eighties. "Not as good as last year," Trent observed, "but at fourteen dollars a bushel, that's a lot [...]
Fred
Trent Brandenburg expects to begin his soybean harvest in two days "if it doesn't rain," he predicted on Wednesday, September 21, 2022. His corn harvest will begin when the kernel moisture content drops, either from drying in the field or [...]