Corn and Soybean Planting Completed – Almost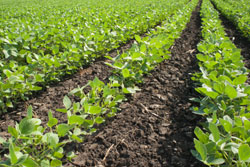 Trent Brandenburg has completed his corn and soybean planting, except for about 5% of the acreage he farms, which is either ponded or too wet for good crop growth. Unfortunately, a big part of that 5% might be found in half a 40-acre field that doesn't drain very well. In order to get maximum returns for all his landowners, Trent is still trying to replant some soybeans, especially where the ponded area is near the road so that the planter doesn't have to be driven over a significant area of healthy plants to get to the replant. Crop conditions can range from excellent to very poor in the same field due to the ongoing rains.
Trent has completed side dressing his plantings and is now spraying corn. The rainfall has been variable across the lands Trent farms, ranging from two-tenths of an inch in some places to two inches in another, from the same rain event. 95% of Trent's crops look excellent, with remarkably fast early growth.
More from The Field Report
Fred
August in the farming community is the month for crop tours and farm shows. Trent Brandenburg believes his corn and soybean yields will exceed the numbers posted for recent crop tours. Various ag firms host crop tours during August in [...]
Fred
Trent Brandenburg's corn crop was badly hurting from the drought in May and June. The tassels were emerging on the shortest corn stalks in recent memory. The rain came with the huge derecho on July 8, 2023, and more reasonable [...]
Fred
Near-record dryness in central Illinois is about to take a toll on the corn crop. April 2023 and May 2023 together were among the driest months since records have been kept. Quincy had 3.01 inches from April 1 to May [...]