Corn Tassels, But Not All At Once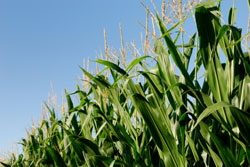 Trent Brandenburg is happy to see all the corn tassels but he would prefer that all of his plantings were tasseling at the same time. Due to the "water stunting" of plants which were in wet ground during the the protracted wet weather in May and June, the crop maturity progress is uneven. Trent foresees average to better-than-average yields. He's expecting some yield loss from the "hurt areas" that were too wet for too long.
Although the corn leaves are "rolling up" every day due to increasing dryness, Trent still sees his corn and soybean crops "looking good if we get some rain later this week." Trent is now spraying for control of water hemp and other weeds. Although some aerial spraying of corn fungicide has begun in the area, Trent tries to avoid that expense by planting varieties less susceptible to the common foliar diseases. Unfortunately, the remarkable progress in development of better corn genetics in recent years is still lagging in some foliar-disease-resistance traits.
More from The Field Report
Fred
Trent Brandenburg is happy with his farming results this season. He still has about 20 acres of corn and another 20 of beans to harvest. Despite the drought earlier in the season, it is now too wet to get into [...]
Fred
Rain at the end of September called a pause in Trent Brandenburg's harvest, giving him time to chat. Trent is about 25% done with his corn and soybean harvest. At first, his corn harvest moisture content was in the mid-20s, [...]
Fred
August in the farming community is the month for crop tours and farm shows. Trent Brandenburg believes his corn and soybean yields will exceed the numbers posted for recent crop tours. Various ag firms host crop tours during August in [...]