Everything Looks Great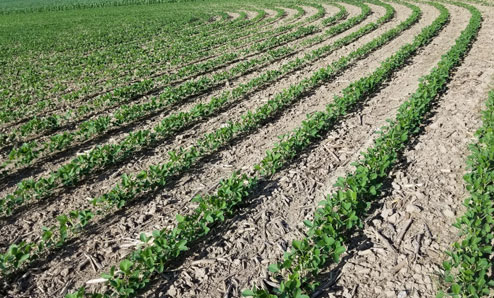 "The Temperatures Have Been Wonderful for Early Crop Growth"
Trent Brandenburg was happy to take a couple of minutes away from mowing grass to give us this update. Trent's grass is growing as fast as his corn and soybeans. His planting went well; timely rains encouraged fast germination and a good start.
Right now, Trent would like some rain. "It's a little dry," he said, noting that it isn't dry enough to actually damage the plants, they just need more moisture right now for fastest development.
The temperatures have been wonderful for the early crop growth. The 90-degree days and nights in the 60s have provided July-like weather in late May and early June. The corn may tassel by the Fourth of July as the degree-days pile up.
More from The Field Report
Fred
Trent Brandenburg is happy to have received more than an inch of rain on his dry fields in mid-July.  After scouting his crops to determine drought damage, he concluded that the corn pollination hadn't gotten far enough along to be [...]
Fred
"The corn leaves are rolling," Trent Brandenburg replied when asked about drought effects on his crops. Despite widespread central Illinois one-inch rains Saturday the 26th and Sunday the 27th, as reported by CoCoRaHS (Community Cooperative Rain, Hail and Snow Network), [...]
Kestrel Website Design
This morning (June 6, 2022) Trent Brandenburg was considering if he should start mowing roadsides.  Watching the cloudy skies, he wondered if he would be caught in the rain.  Trent finished his planting over a week ago.  He has a [...]