Excellent Soybean Yields But Slow Going In The Field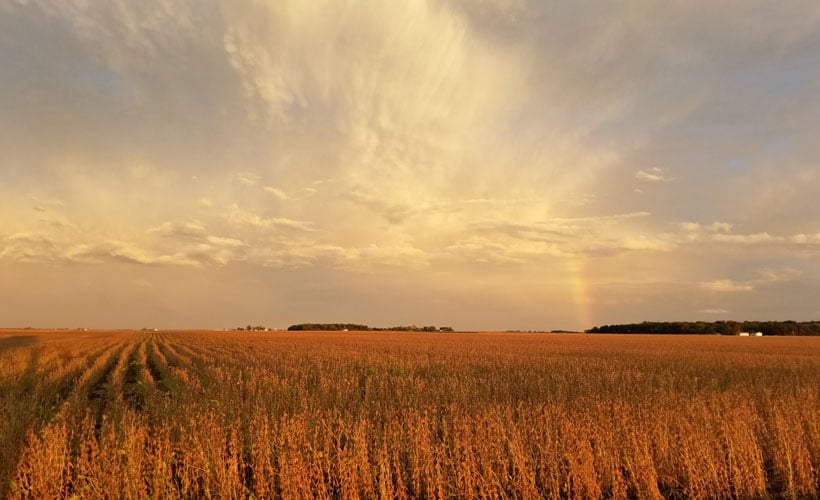 2021 Harvest is Winding Down
Trent Brandenburg describes his soybean crop yield this year as "excellent" and corn as "above average but not exceptional." Trent has "a few days" of fieldwork remaining to complete his harvest. His harvest has been slowed by the wet soil from the continuing rains.
He is going slowly and carefully to avoid the mishap of another area farmer whose combine got stuck in a muddy field with a broken axle. The soil was so muddy that cribbing wouldn't support the jacks needed to raise the machine enough to change the axle, so a crane had to be used, making the repair very expensive and time-consuming.
Trent had no serious problems with pests or diseases this growing season, despite the wet weather. His good yields reflect his timely and successful use of crop protection chemicals. Now he cleans and maintains the harvest machinery and moves it to the back of his machine shed so the spring planting equipment is upfront for the new crop year.
Photo © 2021 by Virginia Dahms
More from The Field Report
Fred
Trent Brandenburg has completed his harvest. His 2022 corn and soybean crops are "in the bin". Asked how he would rate the crop year, Trent thought a bit and said, "It was a good year." Trent has concerns during the [...]
Fred
Trent Brandenburg is done with his soybean harvest. Most of his bean fields averaged in the seventy-bushels-per-acre range, with one in the eighties. "Not as good as last year," Trent observed, "but at fourteen dollars a bushel, that's a lot [...]
Fred
Trent Brandenburg expects to begin his soybean harvest in two days "if it doesn't rain," he predicted on Wednesday, September 21, 2022. His corn harvest will begin when the kernel moisture content drops, either from drying in the field or [...]