Looking Back And Looking Ahead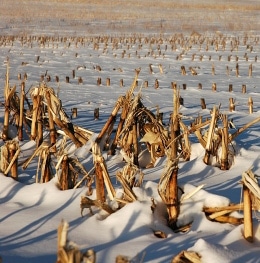 January 2014
During the mid-winter, farm operators look back on the previous crop year and look ahead to the coming year. It's a good time to step back from the rush of everyday farming operations and try for a long view. Trent said, "Last year was good because the yields were good." The lower market prices reduced profitability and put a damper on near-term equipment spending. Looking forward to the new crop year, Trent is reserved, seeing prices continuing down and crop insurance expenses significantly up.
The drought is a continuing problem. All of Piatt, DeWitt, and Macon Counties are indicated in moderate or severe drought according to the Drought Monitor and the size of the area has changed very little over the winter.
The ground is now frozen very deeply due to the near-record cold temperatures from the polar vortices invading the lower midwest. Snowmelt and rainfall will run off instead of recharging the ground-water supply, which is the supply that gets crops through periods of less rainfall.
Like many farm operators with recent memories of near-$8 corn, Trent is reluctant to sell in today's $4.30 market, so he is holding, hoping for a market increase.
More from The Field Report
Fred
Trent Brandenburg is happy with his farming results this season. He still has about 20 acres of corn and another 20 of beans to harvest. Despite the drought earlier in the season, it is now too wet to get into [...]
Fred
Rain at the end of September called a pause in Trent Brandenburg's harvest, giving him time to chat. Trent is about 25% done with his corn and soybean harvest. At first, his corn harvest moisture content was in the mid-20s, [...]
Fred
August in the farming community is the month for crop tours and farm shows. Trent Brandenburg believes his corn and soybean yields will exceed the numbers posted for recent crop tours. Various ag firms host crop tours during August in [...]