Soybean Planting Half-Done; Corn Looks Good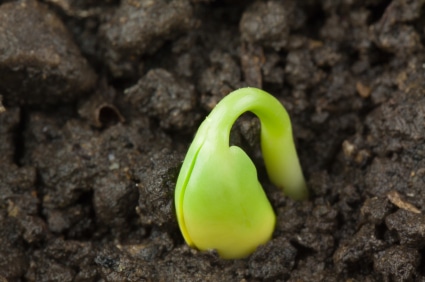 Trent is about half-done with his soybean planting today, May 11, and expects to finish Monday, May 14, if there is no rain. The planting is going well, although from one field to the next the soil condition ranges from dusty-dry in this field, to wetter than you should plant in the next.
The corn crop looks good. Trent likes to see the color of the corn seedlings turn darker green as the soil warms and the root systems develop. At this time, Trent wants a rain a week from now to fall…
Despite the unusually warm winter and early spring, Trent has not seen the increase in insect activity that many experts were predicting. Now Trent wants to complete his soybean planting so he can side-dress his corn fields before the corn gets too big to side-dress.
More from The Field Report
Fred
Trent Brandenburg is happy with his farming results this season. He still has about 20 acres of corn and another 20 of beans to harvest. Despite the drought earlier in the season, it is now too wet to get into [...]
Fred
Rain at the end of September called a pause in Trent Brandenburg's harvest, giving him time to chat. Trent is about 25% done with his corn and soybean harvest. At first, his corn harvest moisture content was in the mid-20s, [...]
Fred
August in the farming community is the month for crop tours and farm shows. Trent Brandenburg believes his corn and soybean yields will exceed the numbers posted for recent crop tours. Various ag firms host crop tours during August in [...]