Trent Is 90% Done With Corn, 100% With Beans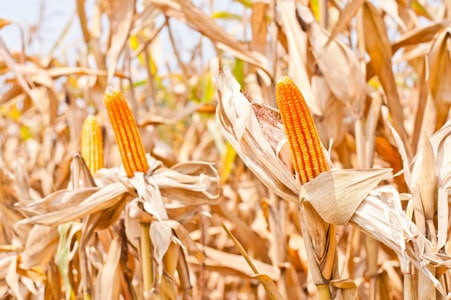 "Two or three more days… if it doesn't rain"
Trent Brandenburg is 90% done with his corn harvest. completion of his corn harvest. He rated his corn crop "better than expected. Not a bumper crop and not below average." Trent had completed his soybean harvest several weeks ago. His corn harvest was delayed due to frequent rains making field conditions too muddy.
Trent was surprised at the performance of his corn acreage that had been replanted after the heavy rains. He related that often, replanted acreage is hardly worth harvesting. This year, some of his replanted acreage outperformed some of his original plantings
"It was just later," he concluded.
More from The Field Report
Fred
Trent Brandenburg is happy to have received more than an inch of rain on his dry fields in mid-July.  After scouting his crops to determine drought damage, he concluded that the corn pollination hadn't gotten far enough along to be [...]
Fred
"The corn leaves are rolling," Trent Brandenburg replied when asked about drought effects on his crops. Despite widespread central Illinois one-inch rains Saturday the 26th and Sunday the 27th, as reported by CoCoRaHS (Community Cooperative Rain, Hail and Snow Network), [...]
Kestrel Website Design
This morning (June 6, 2022) Trent Brandenburg was considering if he should start mowing roadsides.  Watching the cloudy skies, he wondered if he would be caught in the rain.  Trent finished his planting over a week ago.  He has a [...]