Trent Is Harvesting The Downed Corn First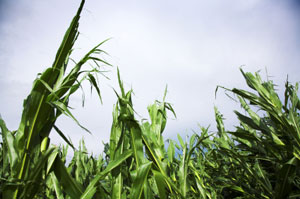 This picture of wind-blown corn in mid-season illustrates the problem with getting a combine and its corn head through a field of corn downed by wind damage. Trent Brandenburg has several of areas of fields like this from a windstorm this summer. Because it's slow going, Trent is harvesting these first, while waiting for the undamaged majority of his corn to dry down some more in the field. Trent says his moisture percentages are all over the place, from 15% to 26% at the extremes, but mostly in the upper teens-low 20s.
The USDA says about 5 percent of Illinois corn is harvested. The crop was 93 percent dented and 46 percent of the corn was mature, compared to the five-year average of 41 percent. The serious drought in central and west-central Illinois continues. Topsoil moisture was estimated at 32 percent "very short", 39 percent "short", and one percent surplus. Only 28 percent of topsoil was deemed adequate for growing. Field fires have been a problem in west central Illinois.
Trent has revised his corn yield estimate downward from "average" to "average with some below-average." It's too early for Trent to make a comprehensive estimate because the downed corn he has been harvesting is in only parts of fields, so the yield per field won't be known until the standing corn, expected to be better-yielding, is harvested as well.
More from The Field Report
Fred
August in the farming community is the month for crop tours and farm shows. Trent Brandenburg believes his corn and soybean yields will exceed the numbers posted for recent crop tours. Various ag firms host crop tours during August in [...]
Fred
Trent Brandenburg's corn crop was badly hurting from the drought in May and June. The tassels were emerging on the shortest corn stalks in recent memory. The rain came with the huge derecho on July 8, 2023, and more reasonable [...]
Fred
Near-record dryness in central Illinois is about to take a toll on the corn crop. April 2023 and May 2023 together were among the driest months since records have been kept. Quincy had 3.01 inches from April 1 to May [...]