We Can Grow More With Rain Than Without It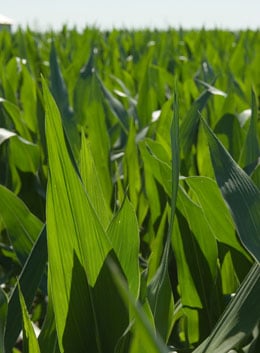 First corn tassels seen!
Trent Brandenburg is philosophical about the wet June, remembering that last year by this time (early July 2012) the worst drought in years had become established. Trent had to replant about 10% of his corn and soybean plantings due to ponded ground and hail damage. Trent adds that you can't see many ponded areas from the road now that the crops are growing taller. Today, July 8, 2013, "I will be done replanting, because by the time the wet spots I haven't replanted yet are dry enough it will be July 20 which is too late to plant."
Trent thinks there is enough soil moisture now to get good corn pollination. He still wants some rains for ear and pod fill because the corn and soybean plants are shallow-rooted due to the unusually wet June. Ideally there will be good drying weather this fall and the first frost will be late enough to maximize yields from the late planting.
Trent is just beginning to see corn tassels. He estimates the corn crop is about two weeks behind "normal".
More from The Field Report
Fred
Trent Brandenburg is happy with his farming results this season. He still has about 20 acres of corn and another 20 of beans to harvest. Despite the drought earlier in the season, it is now too wet to get into [...]
Fred
Rain at the end of September called a pause in Trent Brandenburg's harvest, giving him time to chat. Trent is about 25% done with his corn and soybean harvest. At first, his corn harvest moisture content was in the mid-20s, [...]
Fred
August in the farming community is the month for crop tours and farm shows. Trent Brandenburg believes his corn and soybean yields will exceed the numbers posted for recent crop tours. Various ag firms host crop tours during August in [...]